Yoga delivered to your door! Add Yoga to all the special events in your life!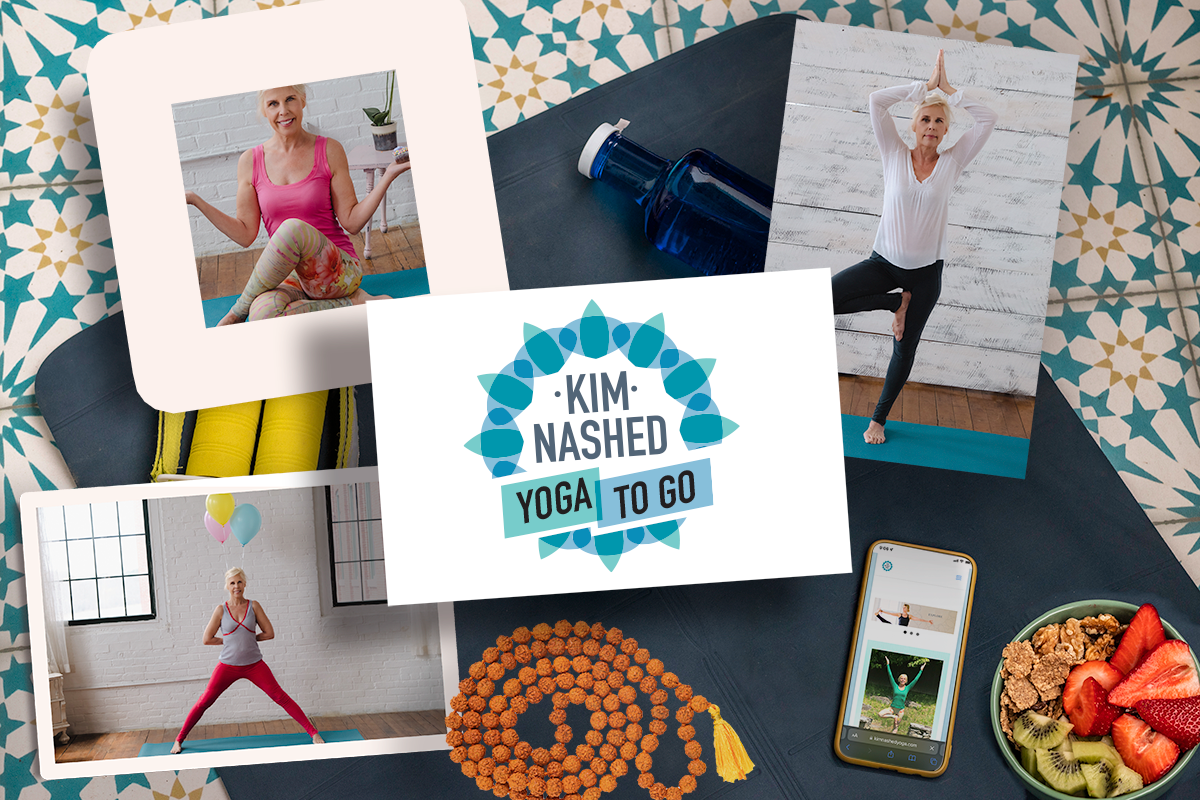 Choose from:
Yoga

Meditation

Yoga Nidra

Frame Drum percussion

Hang Drum percussion

Crystal Bowls sound bath

Indoors or Outdoors

Or create your own experience!
Pricing:
Yoga-to-Go is $75/hour. Travel time under 25 minutes is free.
Travel time over 25 minutes is charged one way. 
A Crystal Bowls sound bath is an additional $20. 
To book your next yoga event, email [email protected] or contact Kim at (207) 649-9301
Share the experience, the good vibrations, and the love with friends and family.
March 2022 Update:
Much has changed in our world. We are hopeful we can look forward to yoga and meditation retreats with you in 2023 when the European borders re-open. Be in touch if you would like to reserve a spot!
May you be happy,
May you be healthy,
May you walk through the world with ease.
Namaste
Since 2014, Kim Nashed Yoga along with their European friends will guide your yoga and meditation practice, as well as be your hosts for a variety of daily excursions and amazing meals (with wonderful regional wines if you wish)! You can also have plenty of time for yourself – to walk, explore, write, or whatever you enjoy.
The retreats max out with eight people so if you are curious please let us know soon. We have had solo travelers, siblings, couples, parents and children, and friends of all (adult) ages. Everyone is welcome!
A typical day starts with coffee and tea, followed by an hour and a half of yoga and meditation. We then share a full, relaxing breakfast/brunch followed by an hour or so for personal time before we head out on an excursion. Destinations include historical sites, beautiful hikes, villages, picnics, restaurants and more! (See below for details.) Most days we enjoy a late afternoon yoga and meditation practice followed by free time which includes dinner. (It's important to note that all activities are "opt in" so you can feel free to grab some space for yourself!)
Each trip includes elegant, private lodging, two vegetarian meals a day, transportation once you arrive and guided excursions. The price is $2,950 per person. The price may vary slightly based upon the exchange rate with the Euro or Swiss Franc.
Choose your springtime 2023 adventure:
La Forclaz, Switzerland
~ ALPS ~
2023 Dates TBD
The pristine beauty of life on the side of an Alpine Meadow with a panoramic view of the Alps will be yours in the quiet village of Nax. Experience a new kind of clarity:
✦ Hike through endless fields of wildflowers right out your door
✦ Visit ancient energy centers and villages deep in the Alps
✦ Explore the alpine town of Evolene and hike to the Ferpecle Glacier
✦ Spend time in nearby Martigny and enjoy world-class art, Roman ruins
✦ Enjoy chic remodelled holiday cabins at the Anako Lodge in La Forclaz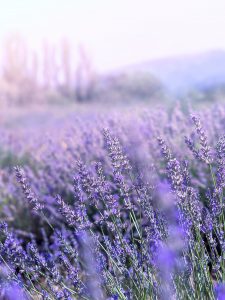 Moustiers Ste Marie, France
~ PROVENCE ~
2023 Dates TBD
Mountainside Moustiers Sainte Marie overlooking the picturesque Provençal countryside is rated one of the most beautiful towns in all of France. See and feel for yourself:
✦ Savor the fragrant embrace of endless lavender fields in bloom
✦ Paddle & swim in the waters of the dramatic Gorge de Verdon
✦ Experience the peaceful energy of the Segries monastery
✦ Share the beauty of hillside Moustiers Sainte Marie, rated one of the most beautiful villages in France
✦ Enjoy Provençale comfort, light, and vistas at two inns, La Bonne Étoile and The Guard's House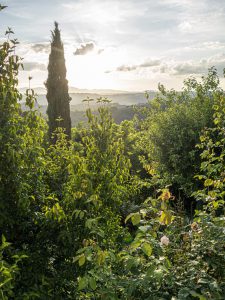 San Gemini, Italy
~ UMBRIA ~
2023 Dates TBD
The Palazzo Santi Terzi in the ancient village of San Gemini in Umbria will be your elegant, comfortable home away-from-home. Explore and grow in the sun:
✦ Visit medieval villages and the cathedrals of Assisi and Orvieto
✦ Explore the ancient, awe-inspiring Roman ruins of Carsulae
✦ Enjoy wine and cuisine, and tour the beautiful Brunozzi Vineyard
✦ Hike to peaceful, hidden monasteries and St. Francis' sanctuaries
✦ Swim and relax at the Palazzo Santi Terzi, your beautiful palace lodging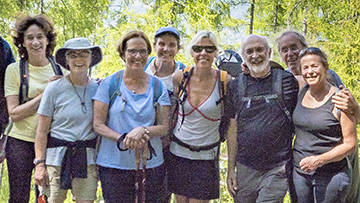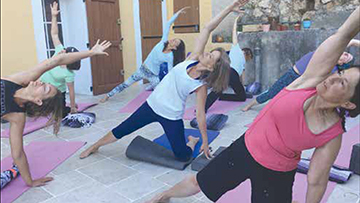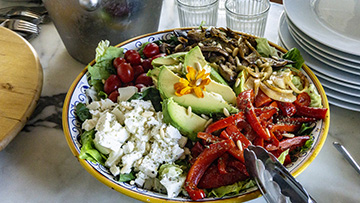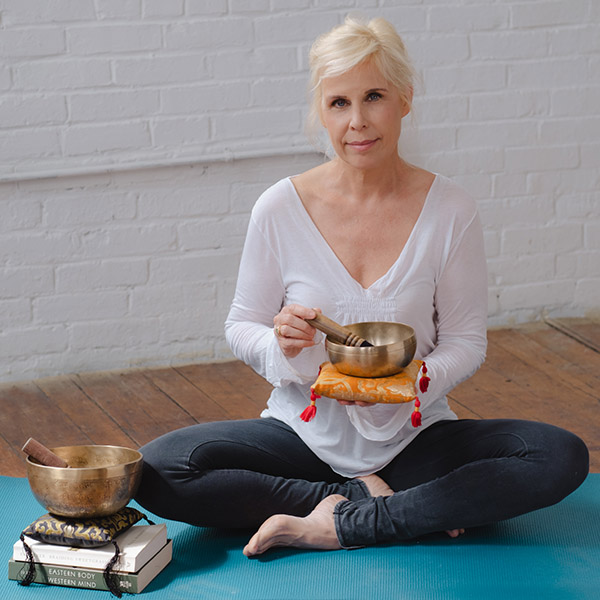 Kim is a Yoga Alliance Certified E-RYT (Experienced Registered Yoga Teacher). She is known for her warm heart and professional clarity.
Price is $2,950 person which may vary based upon exchange rate with Euro or Swiss franc.
Breathtaking! One of the most beautiful places I have ever been to. Morning yoga and meditation on the patio of the guardhouse was surreal and indescribably peaceful and grounding. Tons of fun and I would follow Kim all over Europe!  — Jessica K.
If you are thinking about making the trip to Moustiers with Kim, all I can say is GO! The scenery is spectacular, the food divine, the yoga and meditation transcendent. But the best part was making new friends. All in all, it was an experience to savor.  — Lisa H.
Great location for the town and the yoga— Mornings overlooking an olive orchard outdoor on a terrace; later in the day in an underground room, comfortable, cool, and quiet. Afternoon activities were unique to Provence, active, and very enjoyable. The meals were delicious. It was easy to arrange a few days in Paris before and take a high speed train to Provence. Thoroughly enjoyed this trip! — Marilyn R.
I can't say enough about the yoga retreat in Moustiers Ste. Marie — it was amazing! It was such a treat to have yoga and meditation every morning on a terrace overlooking olive groves and provincial southern France! Then, in the heat of the day to go to an underground crypt for an afternoon session was perfect! John and Kim are fantastic hosts and had wonderful local field trips planned in the afternoon, should you chose to participate. There were lavender fields, vineyards and farmers markets to explore, as well as, a gorgeous nearby lake to swim and paddleboard. We were able to go to a gorge that offered kayaking, canoeing, paddle boats and swimming! There is lots of hiking right out your back door! The town is wonderfully intimate and friendly, with delicious foods and an open market. Our French hosts, Pascal and Claire were, truly, no less than enchanting and made the stay that much more enjoyable. Transportation provided by Kim allowed everyone to arrive at their doorstep! This is a wonderful retreat offering the ability to see a beautiful village destination in the south of France. — Stephanie K.